Rafting Kern River in 2023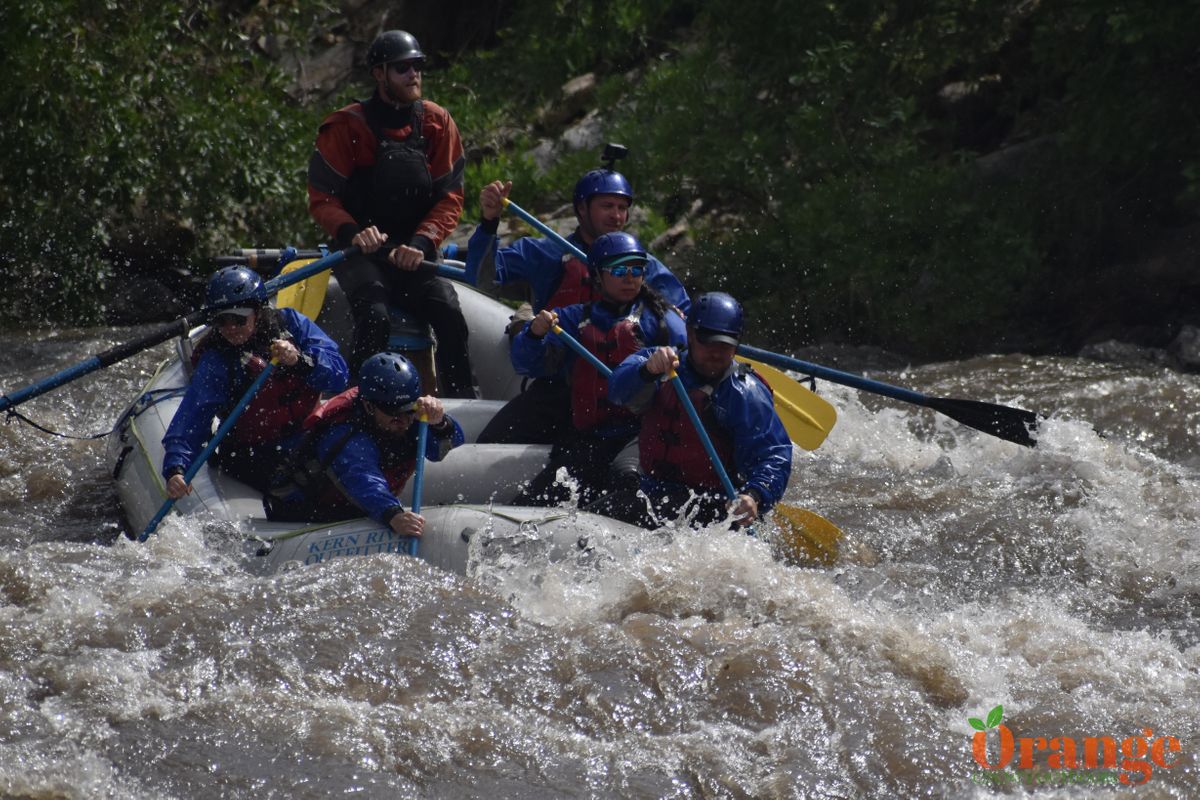 Less than 4 hours from Orange County is an amazing getaway for adventure seekers and those looking to relax. Kern River has world class whitewater rafting for all ability levels from beginner to expert. Even if everyone in your group isn't looking for an adrenaline rush, it's a great place to relax in small town surrounded by nature. For those who like to camp, most of the campgrounds are located along the river which is such a great background noise to go to sleep to. There are also a few campgrounds that have amenities like showers and flushable toilets. If you're looking for more comfort, there are several motels and Airbnb's right in the town of Kernville. This little town has no traffic lights but has everything you would need during your stay.
This article is mostly focused on whitewater rafting since this year (2023) is going to be a record year for rafting on the Kern. The rafting season will likely last well into October unlike last year which only last until May. Last years water levels were so low that the rafting tours were basically trying to find ways through the rapids without getting stuck on rocks as you barely slide above them. This year however, there's plenty of water that guides can choose from several different routes through the rapids.
"The Killer Kern"
Kern River has been dubbed "Killer Kern" based on it being one of the most dangerous rivers in the country. As you drive along Hwy 178 towards the Kernville, a sign sits at the entrance into the canyon noting how many people have died in the river, this sign is updated annually. This sign may intimidate a lot of visitors but what makes the river so dangerous and why have so many people died in it?
Kern River is a fast flowing river with rapids, underwater obstacles, and trees/branches that can snag you. This river demands respect, when you visit this river, you need to understand that there are ways to enjoy it safely and ways to enjoy it irresponsibly. Almost all the deaths on the "Killer Kern" were people that were NOT on guided rafting tours. On any visit to Kern River, here are a few things you will likely see from some of the people in the river:
- Floating down the river on cheap innertubes
- People not wearing life jackets
- Alcohol in hand
Now with these factors, obviously there are going to be issues as all these things are highly discouraged while visiting the river for obvious safety reasons. You also have to take into account the proximity of the some of the most heavily populated areas in this country: Los Angeles, Orange County, and San Diego. This is they closest untamed river we have to the millions of people that call Southern California home. Lots of people visit this area as a means to cool off, relax, or adventure. 99.999% of the people that visit Kern River won't have any issues, but the small percentage of people that choose to be careless are the ones you hear about on the news and the majority of what makes Kern River be known as "Killer Kern." Even with that said, there are many things we do in life that are still more dangerous: driving vehicles, walking down the street, going to the beach, skiing etc...
How to enjoy the river responsibly
The safest way to enjoy the river while also having the most fun is by using a rafting tour company. This costs money of course but there are several different options ranging from short trips which are pretty inexpensive to 1 or 2 day trips which obviously cost more. When using a rafting company, not only are you having the most amount of fun on the river but you're also doing it in the safest way possible. These rafting companies have guides that will give you direction and keep safety as the #1 priority. These guides raft the river just about every day and are very knowledgeable about it. You will be issued all the appropriate safety gear like life jackets and helmets and you will also be briefed on what to do if you fall out of the raft.
There are several companies that will guide you down the river but we recommend using the most experienced and most knowledgeable company which is Kern River Outfitters. The tour company is a local, family owned operation that has been rafting this river for over 20 years. They know the rapids and how they change at different water flows and they know what sections of river can be safely navigated at varying water flows. There is no way to predict far in advance how high the water will be during each month as the water flows vary depending on how much snow is melting in the Sierra. Even with that being said, if the water is too high and dangerous in certain sections, there are other sections of the river that can be navigated safely. Of course, if the river gets too crazy, the tour company will cancel the tour.
If you're thinking about going whitewater rafting, just do it! It is an absolutely amazing experience that we are able to enjoy within just a few hours of driving. You do not need experience either as this river features sections with small rapids and sections with higher up the river with larger rapids for the adventure seekers.
To get to Kernville:
From Los Angeles = 3 hours
From Orange County = 4 hours
From San Diego = 5 hours
Rafting with Kern River Outfitters (May 2023)
A message from Tulare County Sheriff Office
Tulare County Sheriff Mike Boudreaux has issued temporary river closures for parts of the Kaweah, Kern and Tule rivers. Sections of the Kings and St. John's rivers are already closed to the public.
The closure orders begin today and will stay in effect until further notice.
This year's record level snowpack and warming temperatures have resulted in swift, cold water flowing in the Kaweah, Kern and Tule rivers, as well as the Kings and St. John's rivers, making all the waterways in Tulare County dangerous and the banks unstable for the public. Do not enter the waterways.
Public access will be closed:
• Kaweah River at Cobble Knoll and Slick Rock recreational areas.
• Sections of the Kern River within Tulare County at all points along the Kern River beginning at Dry Meadow Creek, approximately two miles east of the Johnsondale Bridge, down to the Tulare/Kern County Line. The closure order would include all river access locations for recreational use.
◦ Currently, Mountain Highway 99 is closed at Roads End near McNally's to Johnsondale, due to construction.
• Sections of the Tule River from the National Monument to Lower Coffee Camp. There will be no public access at all sites on the Middle Fork of the Tule River beginning at the entrance to the Giant Sequoia National Monument and extending to the Moorehouse Fish Hatchery just below Pier Point Springs. Also, river access is restricted from the North Fork of the Middle Fork of the Tule River to Wishon Campground.
◦ Currently Highway 190 is closed at Balch Park Road due to construction.
Officials will monitor water levels and river conditions throughout the summer. When safe, access to our rivers will be reopened to the public.
Sheriff Boudreaux wants to remind everyone to be extremely careful in all of the local waterways. The water might look calm, but it is not. And a situation can turn dangerous in an instant.