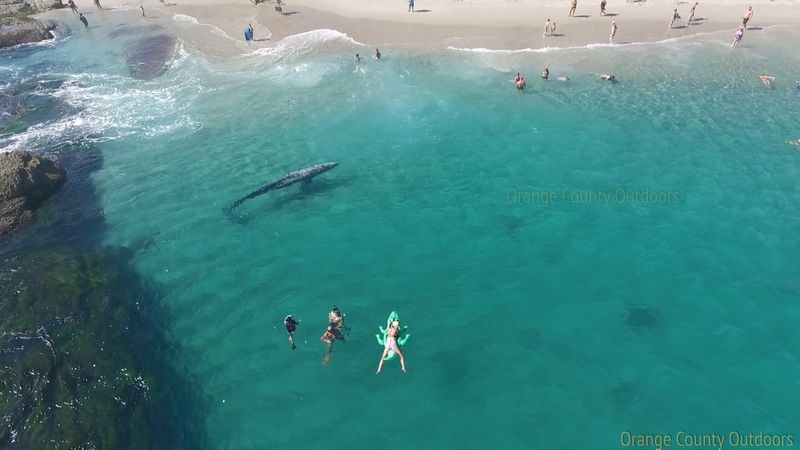 A gray whale showed up inside Dana Point Harbor on this Tuesday morning to the surprise of many tourists and locals that happened to be walking, boating, paddling, and at baby beach. The Orange County Sheriffs got involved and tried to help coerce the whale back into the ocean but the whale stayed for several hours. People gathered on many of the boardwalks, pier, and bridge just to catch of glimpse of this wayward whale, many people capturing amazing photos and video of the whale seeming to be curious of the people.
The previous day, the same whale was spotted in Oceanside in a lagoon underneath a bridge.
On this day as news helicopters hovered above providing live news coverage of the spectacle, the whale finally made its way out of the harbor and up the coast. About an hour later it was spotted off Aliso Beach around 4pm traveling along the coast where it turned in to a cove in front of Montage Resort known as Treasure Island, it swam within 10 feet of unsuspecting beachgoers without them even knowing.
After that brief incident, the gray whale then continued up the coast where it was spotted passing by Surf and Sand Resort and then Crescent Bay Point around 6pm where it was last seen a half mile from the shore. It was traveling at normal gray whale migration speed so it's possible that the whale was ok, just a few months behind all the other gray whales that have already migrated up to their feeding grounds in Alaska. Each summer we tend to see a couple stragglers that show up randomly throughout early to mid summer but they don't usually go into the harbors. This whale was between 10-15 feet long and is thought to be 2-3 years old based on the amount of barnacles it has acquired.