Dive Coaster comes to Orange County!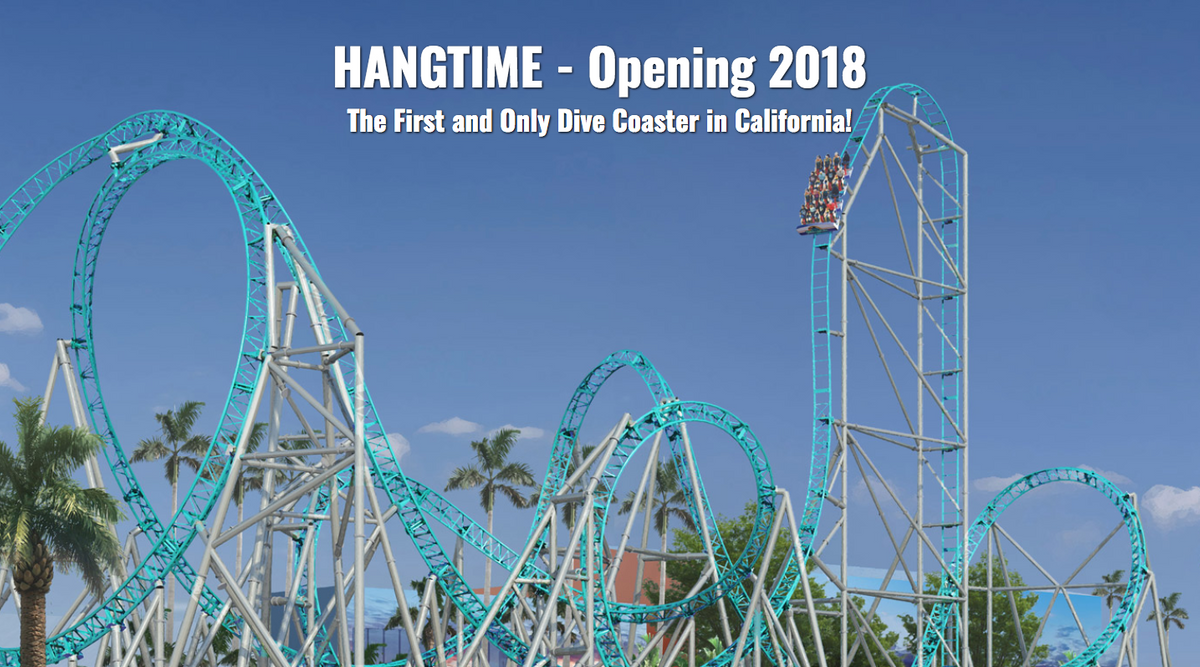 Buena Park, Calif. – Knott's Berry Farm will welcome HangTime, a brand new steel roller coaster - the first and only dive coaster in California - to the theme park in the 2018 summer season. HangTime will tower 150 feet over the Boardwalk area, showcasing gravity-defying inversions, mid-air suspensions and twisting dive tracks.
HangTime will send riders up a vertical lift hill into a 15-story 96-degree drop - the steepest drop in California. The coaster's train will come to a halt once the highest peak is reached, and will leave riders suspended at the crest for several seconds staring downward at a 60-degree angle, giving the illusion of a disappearing track. Then the train will suddenly descend in a beyond-vertical drop, through 2,198 feet of steel track and five gravity-defying inversions. HangTime will be only the second rollercoaster in the Western Hemisphere to feature a negative-g stall loop, which gives riders the sensation of floating.
"HangTime's disappearing track creates a memorable illusion of the unknown as riders feel like they are hanging over a cliff, staring at the ground in nervous anticipation," said Jon Storbeck, vice president and general manager, Knott's Berry Farm. "People who crave that adrenaline rush will want to ride this coaster again and again. Introducing a coaster like HangTime firmly positions Knott's Berry Farm as a must see attraction among Southern California theme parks, and we look forward to welcoming our guests to this new experience."
HangTime's ride structure itself will come to life and illuminate the Boardwalk area with colorful nighttime track chase lighting that will accompany the coaster train's travels across the smooth steel track. The coaster continues Knott's legacy in rollercoaster innovation and industry firsts; the park introduced the very first corkscrew inversion rollercoaster with Corkscrew, and the first flywheel launch coaster with Montezooma's Revenge.
HangTime is manufactured by Gerstlauer Amusement Rides, GmbH, and is the company's next-generation "infinity coaster" model.
Guests can experience an entire season of fun including the thrill of HangTime with a 2018 Knott's Season Pass, on sale now at the best price of the year. A Regular Season Pass includes unlimited admission in 2018 to Knott's Berry Farm with no blackout dates, and a Gold Season Pass includes unlimited admission in 2018 to both Knott's Berry Farm and the newly expanded Knott's Soak City Waterpark with no blackout dates. Regular passes are just $92 or nine easy payments of $10.22 and Gold Season Passes are $110 or nine payments of just $12.22. These offers end October 29, 2017. Applicable taxes and fees apply online. Payment plans are only available at knotts.com.
For more information about HangTime, Knott's Berry Farm and Knott's Season Passes, please visit knotts.com. Join the conversation about the newly announced dive coaster coming to Knott's using #KnottsHangTime #KnottsBerryFarm.