History:
Back in the late 1800's, Tom Vincent was hunting for bighorn sheep when he discovered a quartz vein with gold. He had a cabin down at the bottom of the canyon below the site which is now known as Miner Vincent's Cabin, a small trail leads to it. Mr. Vincent sold the claim to prospectors who could afford to haul in the machinery to dig deep into the mountain of Baden Powell. The new owners dug deep into the mine in search of gold which was present but not enough to recover the cost of the operation and after several years, the claim was abandoned. The mine now sits as a piece of California's Gold Rush history. While a few attempts have been made to map the whole mine, it has not been completely mapped out due to its massive size, there are 7 different levels which can be accessed by wooden ladders, also inside the mine are many different tunnels, there are multiple vent shafts which were dug in order to keep air flowing through the tunnel system. USFS has put barricades up to prevent people from going in but there are 2 metal ducts that come out next to the mill, one of the ducts has a hole cut into it which is the way in. Once inside, there are arrows at most of the splits which all point toward the exit. Bighorn Mine tunnels into Baden Powell which sits along the San Andreas Fault Line so the potential for a major quake is possible here, the mine itself is over 100 years old and has withstood the test of time although small collapses inside have occurred.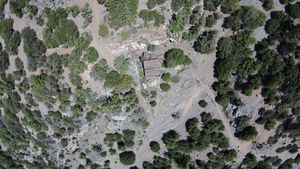 Hike:
Distance: 4.5 miles roundtrip
Difficulty: Easy to Moderate
Season: Spring, Summer, Fall
Cost: $5 adventure pass per vehicle
Parking: Lot
From Orange County, take 55 North to 91 East to 15 North, as you ascend into the Cajon Pass, exit on Hwy 138 which is the only green overpass, go left (West) and enjoy the view of many Joshua Trees as you ascend towards the mountains, make a left on Hwy 2 towards Wrightwood, once you pass through Wrightwood and Mt High Ski Resort, you have about 6 more miles to go until the parking lot at Vincent Gap which is also the trailhead for Baden Powell and the PCT that intersects there. Once you park at the parking lot on the left, there are Phoenix toilets there if needed, a sign points you in the right direction labeled as "Mine Gulch." The trail is easy to follow and mostly flat, you will be hiking along the side of a mountain. Less than a mile into the hike, you will see a small trail that leads down into the canyon, that leads to Miner Vincent's Cabin, stay straight on the main trail to proceed to the mine. Enjoy!